IS !
Jump to navigation
Jump to search
The basic premise of this gag is a parody of show-biz hyperbole, that an actor embodies a character so completely, he doesn't just PLAY the role, he BECOMES it. "Anthony Quinn IS Zorba the Greek!", for example. If inspired by the screengrab, the "_____ IS _____!" gag puts a highly unlikely actor in a highly unlikely role. Id est, "Jack Cassidy IS Hamlet!"
Variations of the gag are the extensions IS/AS and IS/AS/IN: "Michael Ironside IS Marlon Brando AS Eddie Murphy IN 'The Golden Child'!"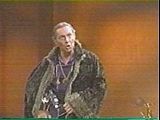 RodRocket
"Jack Cassidy IS Hamlet!"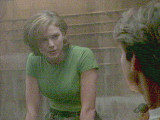 E_the_E
Kari Wuhrer IS Peppermint Patty.