Mr. No-Nose
Jump to navigation
Jump to search
Origin
Started on Caption This by GlitterRock. It was a nickname given to the Markab doctor Lazarenn in the episode "Confessions And Lamentations". The name stuck, and "Mr. No-Nose" was referenced often when that particular episode came around. Later on, Mr. No-Nose was also referenced on other programs where various 'nasal-deficient beings' appeared.
Examples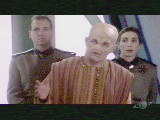 GlitterRock
o/~ I'm Mr. No-Nose, and dis is da No-Nose Show! I'm Mr. No-Nose and welcome to my show... o/~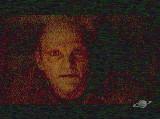 Soozcat
Police say a crazed fan is stalking Mr. No-Nose, of the popular "Mr. No-Nose Show." No-Nose could not be reached for comment.