Hipsoda's Caption Crack
Jump to navigation
Jump to search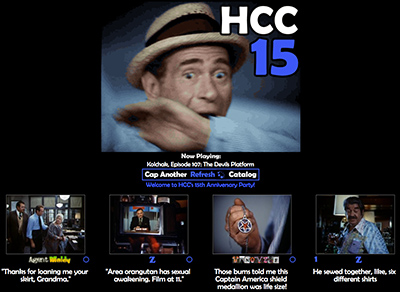 Capping, only Hipsodaier.
Origin
After Caption This! dissipated into the ether, many of the old school Night shift cappers drifted away from capping altogether, until the Holy Shit It's the Great Caption This! Night Shift Reunion at Inventing Situations on March 4th, 2006. Regular Saturday night shift sessions at IS followed, culminating in the legendary 10 Year Night Shift Anniversary session on March 3rd, 2007, which also served as the Has It Really Been One Year of Night Shift Capping at IS? anniversary. All known laws of the universe were flaunted that night, with IS running a full slate of highly copyrighted infomercials and enough Kolchak to kill a donkey. The intense, pants-bursting fun of that night inspired Jazzsoda to try and work out a way for the night shifters to caption copyrighted material more often than once ever, proposing schemes including Hipsoda.com hosting images for IS to run, developing a Saturday night portal, or replacing GersonK at IS with a puppet regime. All of these ideas were silly and rightly rejected, so Jazz went without sleep for a week and developed his own site, with Hippie agreeing to help provide some of the images. Gerson shared some handy image-manipulation scripts and important encouragement of the "I hope you all die" variety. HCC launched with a test run on March 9th, 2007, then opened to the public on March 17th. It was sort of a night shift secret for a while until people began debating on the Inventing Time blog about whether HCC should be torn down by an angry mob or if the fledgling site had the right to go die somewhere. HCC ran on Saturday nights until expanding to a 24/7 schedule on July 8th, 2007. IS subsequently went away on July 20th, 2007, forcing almost hundreds of cappers to discover the magic of HCC. Then IS came back a few weeks later and nobody was sure where to caption. Welcome to the present.
Claims to Fame
HCC introduced several innovations into the world of "live" capping, including chat, the ability to vote for your favorite captions, archiving all caps, posting captions in the order they were made rather than sorted by atomic weight, blind capping, handle graphics, and not testing new features at all before they go live. HCC also gives users the ability to caption any and all past programming from the catalog, just in case they missed Kolchak the last time it was on and don't want to wait another twenty minutes.
Links