The Frandles
Jump to navigation
Jump to search
"Frandle" is a made-up surname that Mr_Grant applies to a character in a caption, when that character does not need to be a recognizable public figure. He believes it 'sounds' funny, especially when paired with a polysyllabic or alliterative first name. "Frandle is much funnier than a regular name like Smith or Johnson," Mr_Grant explains, "therefore using Frandle instead is value-added Funny!"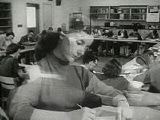 Mr_Grant
"I can't believe it," thought Mary Jo Frandle,


"Serving on the Security Council is such a high honor."
The Frandle "family" began making regular appearances on Wiseline Institute NW Presents Mr_Blog's Left Turn in January 2006. They debuted under the Institute's byline at Ragebot on February 2, 2008. In 2009 Mr_Grant debuted the politically-tinged characters "M.F. Nutt" and his wife "Shirley A. Nutt" -- residents of "Westmost, North Carolina" -- who now provide much of the Frandles' narrative-filler roll.
Frandle is also a real surname, but Mr_Grant did not know it at the time. He refuses to recognize the name's historical existence, because he says it is outweighed by the fact that the name is funny.