Sorry, Not Very Interesting Without Graphics
Jump to navigation
Jump to search
A derivative of "Sorry. This isn't very interesting without graphics.", which was the alt-text for the latest grab at Caption This!, the phrase that would appear when there was no image available, a capper's browser was having trouble finding the image, or a capper moused over the image (depending on their browser).
The term is used for grabs that are either missing, all black, or not very interesting (of course).
At Inventing Situations, the standard alt-text is "Turn on your images. (Where applicable.)", a not so subtle tribute to Mystery Science Theater 3000's "Turn Down Your Lights (Where Applicable)"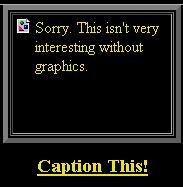 The offshoot of this running gag is the oft-repeated cap of "This isn't very interesting WITH graphics" when a screengrab image is boring or hard to make out.