Jazz Hands!
Jump to navigation
Jump to search
Usage
"Jazz hands!" is used to refer to a person holding his/her hands out (usually to the side) with the palms forward and fingers spread wide. Many jazz hands captions will note that somebody is in some variant of this pose.
Origins
Jazz hands is the actual choreography term for this position--see Bob Fosse for multiple examples.
It was a common riff on MST3K, usually delivered in a, shall we say 'jazzy' voice when somebody either assumed the jazz hands position, or looked as if they might.
Examples
From http://www.glitterrock.org/mill06.html: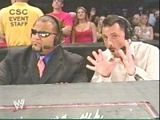 Labratio
"Okay, this match is borning. Camera man, over here! Jazz hands!"