Jason Leopold Voorhees
Jump to navigation
Jump to search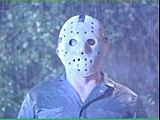 Usage
Mostly used by TheGrayZombie in reference to Jason Voorhees, the undead homicidal serial killer featured in the Friday The 13th movies. The running gag has TheGrayZombie becoming the foster-father to Jason, who is nothing more than a misunderstood child. The name 'Leopold' merely popped up when TheGrayZombie wrote a caption scolding Jason.
Jason has a habit of referring to Capper Crushes by their character names, rather than their real names. Charisma Carpenter - Foster Mama Cordy, Sean Connery - Foster Uncle 007, Alan Rickman - Foster Uncle Severus. When corrected, Jason's standard response is "Whatever."
Another running gag involving Jason is his romantic relationship with Regan MacNeil, from The Exorcist.
Origin