Happy Fun Brigadier
Jump to navigation
Jump to search
Usage
It's usually used while poking fun at Doctor Who companion Brigadier Lethbridge-Stewart.
Origin
A variation on the Happy Fun Ball joke, this running gag was started by Trin Tragula in the Doctor Who gallery on Glitter's Cap-Page Board. The first appearance of it was during 'Spearhead from Space,' and various Cappers carried on from there, making it a running joke throughout the Third Doctor stories so far.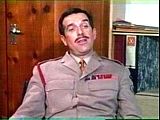 Trin Tragula
Do not taunt Happy Fun Brigadier.