User:GersonK
Jump to navigation
Jump to search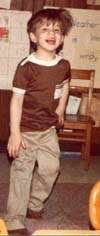 Handle: GersonK
Real Name: Gerson K.
D.O.B.: 1972
Occupation: Layabout
Marital Status: Single
Kids: None
Handle Origin: First Name plus the initial of my last name
Alternate Handle(s): WilliamHMacysDayParade (Thanksgiving), SecretariatOnAMotorcycle (really obtuse reasons, stopped using it a while back
You Can Find Me Capping: At Inventing Situations, throughout the week, sometime in the evenings, and occasionally the day too. Some Saturdays I'll hit HCC, and I post at Glitter's Open Forum, and the very occasional picture at Capper Blog.
Personal info
unknown
Links