Hero/Villain/Extra Profiles
Jump to navigation
Jump to search
Origin
Started on Caption This by alexgariepy. It was a series of character profiles on the major heroes and villains of Babylon 5, listing their names, AKAs, strengths, and weaknesses. A number of other Cappers (Beedo and YingYang, for example) also created a few. Later on, GlitterRock did a similiar series of "extra" profiles for background, ancilliary characters -- and even props, such as uniforms or Sheridan's beard!
When the Babylon 5 spinoff "Crusade" appeared on the Sci Fi Channel for capping, the Hero/Villain Profiles continued there as well.

Examples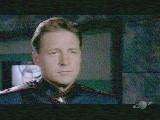 alexgariepy
Hero profile: John Sheridan, a.k.a. Ultimate ruler of everything.


Strength: Acting, can beat the bad guys to the punch.


Weakness: Flarn.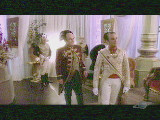 alexgariepy
Insane moron profile. Emperor Cartagia a.k.a. WeinerRock.


Strength: He talks to heads!


Weakness; He's coo-coo!